BELMONDO From Dream to reality
by Jeff Domenech
foreword by Georges Lautner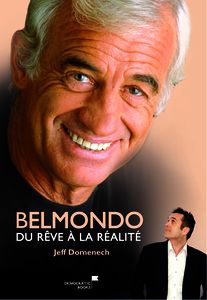 It was as simple as a phone call. A phone call that was going to change the course of my life.
"Hello, Jeff? Georges Lautner, speaking. What are you doing Sunday afternoon?"
"Nothing in particular."
"Then come over and have lunch. On your way, I need you to pick up a buddy of mine at the Hotel Martinez."
"No problem. Do I know him?"
"Certainly. Everybody knows Jean-Paul Belmondo."
It's the story about a kid from Marseille who lived his childhood dream at the age of forty. It's the story of a fan who finds himself in the close circle of friends of one of the greatest stars of French Cinema. It's the story of the fast-food employee who becomes the author and producer of a documentary aired by France 2 on prime time.
Jeff Domenech has always been an unconditional fan of Jean-Paul Belmondo. He loves his insolent laid-back attitude in A Bout de Souffle and admires his insistence to do his own stunts in Peur sur la Ville as well as his patented comical interpretation in L'As des As. Jeff had always dreamed of meeting him. He would do better than that. He would convince him to participate in a film that showcased his entire career.
Nothing in his life could have predicted such a singular success story. Starting at the bottom as a counter employee at McDonald's, becoming director of a franchise restaurant at Grasse, in the Alpes Maritimes, he had no contacts in the world of the silver screen. But Jeff Domenech is one of those people who knows how to cease an opportunity when it appears. He became friends with the famous French director Georges Lautner who went on to introduce him to his legendary leading role in Lautner's film, Flic ou Voyou.
How does one become friends with a star? How does Jean-Paul Belmondo live in everyday life? What kind of a man is he? How do you convince the biggest stars of French cinema to participate in such an ambitious project? Behind the scenes of an exceptional documentary, this book is a way to discover Jean-Paul Belmondo in his intimacy and warm simplicity, and a way forJeff Domenech to say, "Anything is possible, you just have to believe."
Available in Bookstores* May 18th, 2011
*French Language Only
The Author
Starting behind the counter in 1989 at a McDonald's in Marseille, Jeff Domenech worked his way up the ladder of responsibilities in the international restaurant chain to the post of manager of a restaurant in Grasse. He left in January 2011 to consecrate his time exclusively to screen writing and film production.
His first documentary as both writer and producer, along side Vincent Perrot who also directed, is Belmondo, Itinéraire. The film is being projected Tuesday, the 17th of May during the Cannes Film Festival, in honor of Jean-Paul Belmondo. France 2 will also air the film the same date prime time during a special evening dedicated to Jean-Paul Belmondo.
Available in Bookstores* May 18th, 2011
*French Language Only
For all inquiries on screen adaptations of this singular success story, contact:
Hervé Bercane centurion.agency@gmail.com
FESTIVAL CANNES BELMONDO STANDING OVATION PALME D'OR
Pour être informé des derniers articles, inscrivez vous :